Fast track Business Growth is every Entrepreneur's Dream. However, it's really tough to come up with ideas that propel our growth and present us with new business opportunities. Add to it, a shoestring budget, limited time and our palms get sweaty.
Are you also stuck for ideas on how to grow fast?
Growth hacking is the use of innovative techniques to significantly increase traffic, conversion rate and user base with minimum expenditure.
The result is substantial growth!
Just like 'Life Hacks', Growth Hacks are minute creative changes you make in your business to result in big positive changes.
Ditching the more traditional ways, growth hackers lookout for clever, cost-efficient, and actionable methods to scale up your business quickly.
Basically, they will do whatever it takes for you to grow.
A more accurate definition of growth hacking is, "a process of rapid experimentation across marketing channels with constant attention on product design and user engagement." Growth hackers test ideas and make adjustments until they find the winning solution.
To help you get inspired, we have collected a few effective growth hacking examples of businesses who've used low-cost promotion techniques to successfully drive incredible growth.
Check them out:
1. Airbnb
A hospitality chain started off by a couple of broke guys in San Francisco is now disrupting the entire industry.
In the beginning, Airbnb promoted their services in places where big tech events were taking place, and there was likely a shortage of housing.
Word of mouth exposure and PR coverage also played a crucial role in their growth.
Later on, while Airbnb was still at its development stage, the people there figured out that just by posting high-quality images of the property can drastically increase their bookings.
The founders themselves went to some of the most popular cities and took pictures of the host's apartments for free.
In 2012, Airbnb employed more than 2,000 freelance photographers across the world to take good pictures of the properties.
However, Airbnb's most famous hack was the reverse engineering of an API that let Airbnb users cross-post their listings on Craigslist.
The founders realised that people who often look for properties to stay, do that on Craigslist. They offered an option for Airbnb listers to copy their listing to Craigslist, verify the information, and post.
The result? Immediate access to huge target market. Obviously Craigslist barred them after a point, but till then the hack had already worked. Airbnb was now on its way to exponential growth.
Key Takeaway: Growth hacks can be as simple as taking better pictures or tremendously complex like understanding the API. There is no one size fits all situation here. Innovation and Creativity will get your ball rolling.
2. Dropbox
Dropbox was a startup with a low marketing budget but great ideas. Today, the company is worth more than 10 billion. And what if we told you that they got there without spending much on advertising.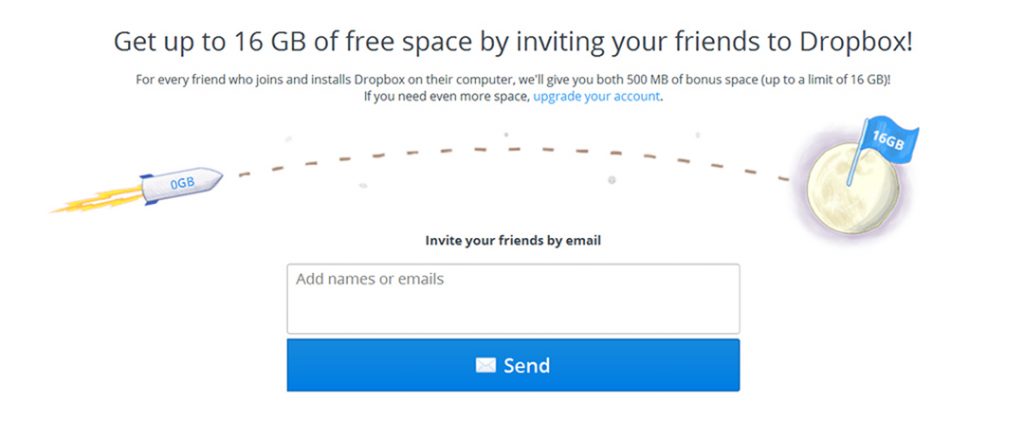 How? By executing the most iconic referral program ever.
Every time you invite a friend and convince them to Sign Up for Dropbox, both you and your friend get 250 MB of extra space as an incentive. This got people sharing Dropbox to everyone – even the ones they didn't know.
The thing that made this referral so powerful was the fact that Dropbox had managed to create a product that improves every time you share it.
They integrated the referral process in the SignUp process and even linked Facebook and Google to make it easier for people to invite their friends with just a few clicks.
By gifting users with additional free space, they made them eager to invite more and more people, skyrocketing Dropbox's growth by 60% overnight.
Instead of investing in huge marketing budgets and ad campaigns, each new customer just cost 500 MB to Dropbox.
And this is not even the end of all the goodness that this hack gave Dropbox – it even had the retention element. So whenever the user's space increased, they indulged more and more into the product, making it less likely for them to go somewhere else.
Key Takeaway: Dropbox sets a great example of building growth into the product itself. It successfully created a scenario where sharing it with others made for a better and more valuable product.
3. Hotmail
Hotmail nailed Growth Hacking way before the term was even coined in 2010.

One of the earliest free email providers, Hotmail realised that advertising was way too expensive. So instead, they came up with a very clever hack that skyrocketed their sign up rates, for free.
One of Hotmail's investor suggested putting "PS I love you. Get your free E-mail at Hotmail" below the email signature in every email sent from the platform.
As soon as the line was in place, Hotmail started acquiring 3,000 new signups every day and it went on till a staggering 1 million users in 6 months. 5 weeks later, they hit 2 million.
What happened here?
Hotmail turned out every single email and every user into a free advertisement for their email service.
When Hotmail was acquired by Microsoft, they had 12 million active users.
Quite a feat considering there were 70 million active users of the internet at that point of time.
As of today, these email signatures are a pretty common sight. For example, we see "Sent from my iPhone" or "Sent from my Blackberry" a lot!
Key Takeaway: Hotmail's tactic is the best example of turning customers into your salespeople. The personalisation of the message and the fact that it came from a friend made not clicking the link almost impossible.
Conclusion
From all the examples we have stated above, you can see how growth hacking almost always involves features built in the product/service itself and not the actual marketing process.
One more common feature of growth hacking is giving value to the customers and thinking beyond the traditional marketing channels and using creative ways to spread the word about the magic your brand is creating.
That's it!
Use these growth hack examples to boost your own growth hacking strategies, or come down to our upcoming workshop with India's most-followed growth hacker – Rohan Chaubey on 14th September 2019 at OF10, Powai.
To register, click here – https://www.meetup.com/Sycabe/events/264545603/
See you!