The year 2020 has already garnered enough attention towards it, all thanks to its numerical proportion.  And us, being the SEO capitalists that we are – cue in the keyword 'Social Media Trends of 2020', we decided to make a list of how social media will evolve in the upcoming year to help you draft marketing strategies for the win!
Over the years, social media slowly occupied a large chunk of our digital marketing efforts. It's now taken into consideration while running most – if not all marketing campaigns. We can go on and on and on about how you need to start taking social media seriously, but you already know that! So, let's jump straight into our topic – the upcoming social media trends you can benefit from.
Social Media has never been static. User expectations, habits, tools, updates and strategies constantly evolve. All of this drastically influences how your end-user reacts to social media and how your planning changes in order to reach a wider audience. 
In this blog, we cover all the Social Media Marketing Trends of 2020  you need to be aware of to make it big in the next year and beyond:
1. Ephemeral Content continues to Rise
Ephemeral means short-lived – the kind of content that the viewer only has access to for a limited time. Stories on Facebook, Instagram and Snapchat are the perfect example of ephemeral content. If executed properly they trigger immediate reactions and boost engagement.
People's attention spans are becoming shorter and they seek for maximum value in the shortest time. This makes content formats like Stories popular where people can spend hours going through one information to another.
A recent study by Statista showcases how the consumption of Instagram stories has increased over the years: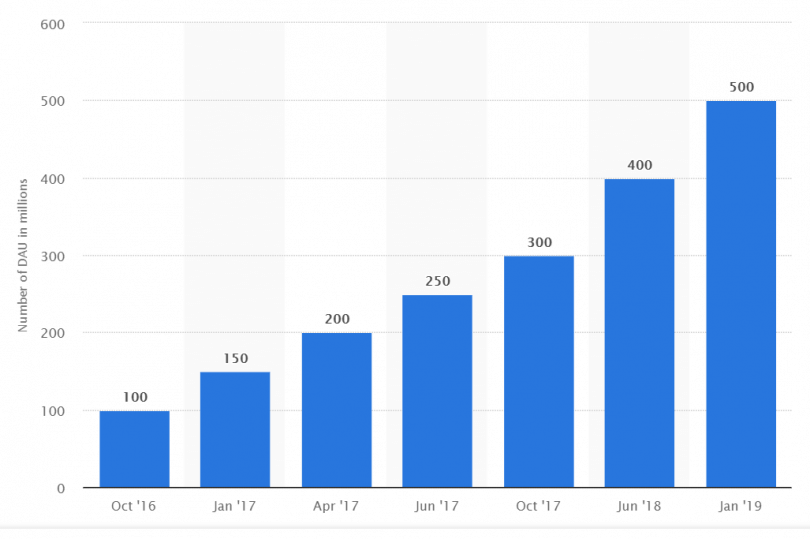 Time to actively incorporate stories in your marketing strategy.
2. A Community that engages
The key to create an effective and impactful social media presence is interacting and engaging your audience. How many times we see that brands have a good social media following but when we check out their individual posts, engagement is next to zero. And now even the audience has realised this fact. They easily identify between organic following and paid followers, and no one likes to be a part of the latter. 
Creating delightful content does maintain your social media presence but you need to cultivate interactions that are more than a simple like or comment or share. Building communities is not a new concept, but with the advent of a more aware audience who is seeking some meaning out of social media, having a thriving community is going to pay you well in 2020.
Create content that gets your audience talking, tickles their mind, encourages a conversation and cultivates the feeling of community. Doing this gets your people hooked and also brings in new leads while adding a human element to your brand.
3. Niche Social Media Platforms come into the limelight
For long, Facebook and Instagram have ruled Social Media. However, in the past few years several niche platforms who have a very focused audience, have risen to fame. 
Tik Tok, for example, has been there since 2016 but in the past one year became immensely popular amongst the youth and continues to do so. If you are a B2C company you can easily go for influencer marketing on Tik Tok. 
LinkedIn on the other hand has become the goto place for B2B marketers, and Twitch for gamers. 
Here are the most popular social media platforms based on the number of active users: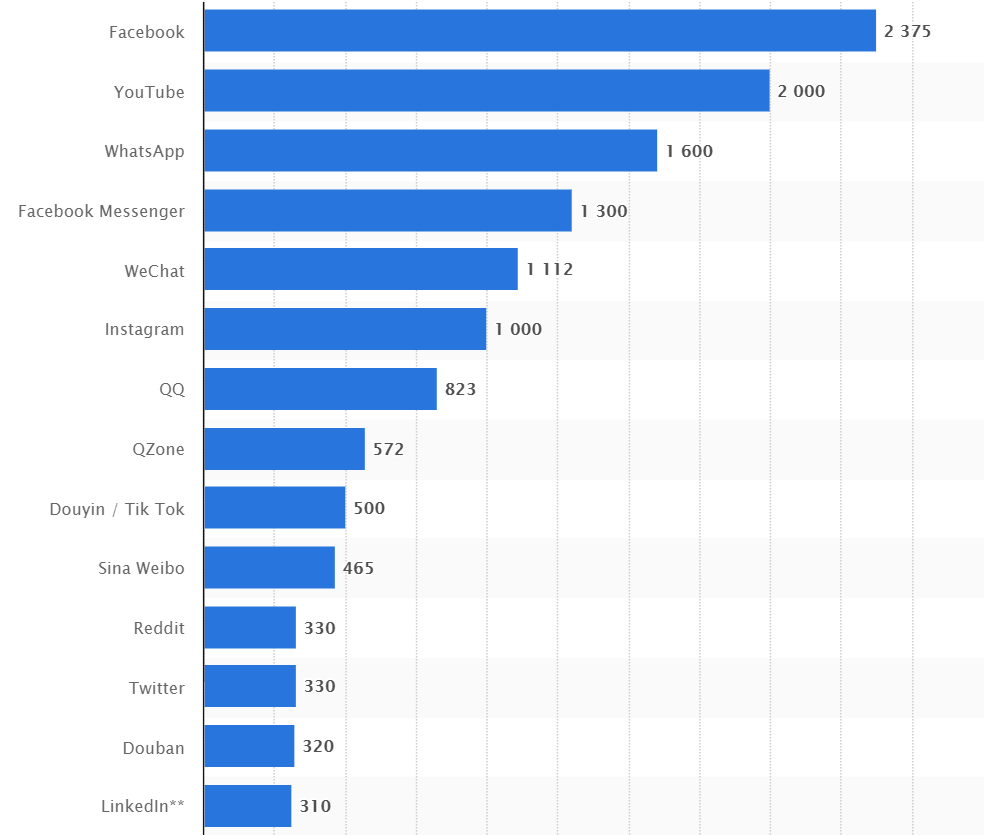 Image Source – Statista
4. AR & VR Technology to Dominate
Every year we see a new set of technologies coming and rocking the world of social media. 2020 is set to be dominated by AR & VR technologies that promise a more engaging and immersive experience to the users of social media. What more could brands ask for?
Facebook has already taken a major step towards this with the introduction of their VR world – Horizon, where people can play games, connect and explore the endless possibilities. 
As for Augmented Reality, it's no longer limited to a certain dog filters, or a halo that you put over your face while clicking selfies on Instagram, Facebook or Snapchat. Brands are now creating customised filters to impress users and do indirect marketing on social media. The reason being, it enhances visual content and drastically improves engagement on social media.
Amazon is currently exploring how to use AR to help their consumers to explore products better by trying them out virtually. Snapchat's Geofilters have been broadly adopted in marketing campaigns to influence others who are nearby the location.
5. Social Media is the new Newsroom
According to a report published by Forbes, 50% of the people who were surveyed accepted that they hear the latest news not from a news station but their social media timeline. The survey also found an increase of 57% traffic on news sites through social media. 
This tells us a lot of things. People get to hear the latest updates and news on their feed and then land on news sites to get more information. So, be the first one to give them the latest! 
Keep an eye on trending hashtags, important news and latest stories in your domain and create content around it. If you can shoot or create a video, even better! This kind of content can build authority and trust for you amongst your audience.
So, what's happening?
6. Influencer Marketing continues to rise
Influencer Marketing is no longer a FAD, it's here to stay! Social Media is dominated by influencers who are getting paid hefty amounts to promote brands. 
In 2019, 80% of the social media marketers found influencers to be an effective tool of marketing.  Unlike social media ads, where brands fear sounding 'too salesy', influencer marketing doesn't feel like advertising. Also, influencers can help you achieve a variety of marketing goals and generate leads – a better and maybe a more budget-friendly option ad campaigns. And you don't need to always get on onboard influencers that have followers in millions. Multiple Micro or Nano influencers in the particular niche you deal with also works. These kinds of influencers have authentic engagement and cost you much less. 
A stat you need to know: Around 22% of the Gen Z from 18–34 years old confessed to have made purchases after seeing recommendations from their favourite influencers online. Need we say more?
7. Local Content for a more Targeted Reach
When your brand has 100s of stores across the nation, you can't expect people to skim through each and every post of yours to find what's relevant to their area. Our attention spans have lowered down, your remember? And neither would a single nationwide ad campaign would help you reach the desired audience and get optimum results.
So what to do? Put those algorithms and AI that social media has provided you to some use and create targeted and local content for different set of audience that has different demographics. Communicate on a more personal level so your audience doesn't get bored. Also, start creating multiple pages of your brand for different areas to help your audience get the right information they need.
8. Expansion of Social Commerce
This is great news for all the small and medium scale sellers who have relied on social media for their leads. And as for large scale players, you have a new platform to generate leads!
For many years,  Amazon, Alibaba and Google have dominated the e-commerce domain. However, with the increasing popularity of social media, things changed drastically! Facebook integrated a marketplace on their platform and Instagram started a store. The latter is also testing an AR tool for you to try on stuff before you actually buy them. Isn't that great? Now you potentials can directly shop through your posts and ads without the hassle of going on to your website, which you practically don't even need now! 
9. Video continues to rule
Like we talked earlier about the decreasing attention spans and the hunger for interesting and engaging content, video continues to satiate our audience. Whether it's short-form videos on TikTok or Stories on multiple platforms or long-form content on YouTube, videos rule the future of social media content.
According to a study by Cisco – by 2022, 82% of all online content will be video.
So, if you're someone who is not creating videos, it's time you include it in your content strategy. You can start off with Stories, Live Videos and short consumable content for the feed. Don't have a professional camera? Shoot with a Phone!
No script? Talk about the field you are expert in! 
There's a lot you can do with videos.
 Conclusion
What the audience in 2020 expects from you as a brand is engaging, interesting and consumable content that not takes much of their time and gives them the right information. Whether you do it through AR, videos, influencers or all of the above, is your choice, but make an impact!
To know whore about what you can do to get your audience to love your social media and give you more business, come over to our upcoming workshop on 30th November at Of10 Powai. We have lots of tools, strategies and case studies in store for you. PS. It's a FREE workshop.
Register here : http://bit.ly/2JUtahF