As of all good things in life – "Every great thing starts with a small idea", and so did Sycabe.

It was in the month of February if I am not wrong when our team discussed how the world is going gaga over the boon that digital marketing and technological advancements are.

BUT!
Do we actually know much about the details of it?
Are we utilising its full potential?
And most importantly, Is the information on the internet enough?

However, with everyone leveraging these tools, the art of standing out has become tough. You read about some update or strategy on the internet, google more about it, watch a video or two and think -oh let's implement it on our business!

There is no question how Marketing, Sales, Lead Generation and Business Growth have undergone a paradigm shift in this digital age. The tools and strategies have moved ahead leaps and bounds in terms of catering to the needs of consumers and business owners. Personalisation headlines the 21st Century and Automation is making everything redundant tasks easier.

But is that much knowledge enough? How are you so sure about that tip, tool or app complementing your marketing strategy or boosting your sales?

In short, there is a Big Gap!
Every business, idea or model is different and so are their needs, You just can't copy and paste strategies from the internet and think they would work for you. 

The competition is tough!

This sums up the problem here – how do we validate, implement and leverage these tools of the 21st Century to make them work in our favour?

And finally, this brings us to questions – 

Can we help people make better choices for their business?
Can we learn, implement and succeed together – not as an individual but as a team?

This is where we came up with the idea of building a community. A tribe that learns & grows together in the digital and tech space.

Every community has some basic guidelines – said or unsaid. These guidelines keep us anchored to the mission and stay on course.

We identified the three key pillars of Sycabe – Teacher | Learners | Space. 

Our tagline  – "Let's Learn" came up with a simple thought of K.I.S.S (Keep It Simple Stoopid). Idea was to include an action that is so simple that people connect instantaneously. 

Sycabe for us is a community where everyone, be it the speaker, organisers or audience come to learn and grow together. And hence, Let's Learn!

Once, we established the roots, the next step was to kick off the actual groundwork. 

As working professionals and adults, where do people head to, to learn something? Workshops, Webinars, Podcasts and Masterclasses!

We picked Workshops with the thought of testing the waters. A workshop requires a venue, an interested audience and an expert speaker eager to share knowledge.

Linkedin became the obvious choice when it came to making connections with the speakers, professionals.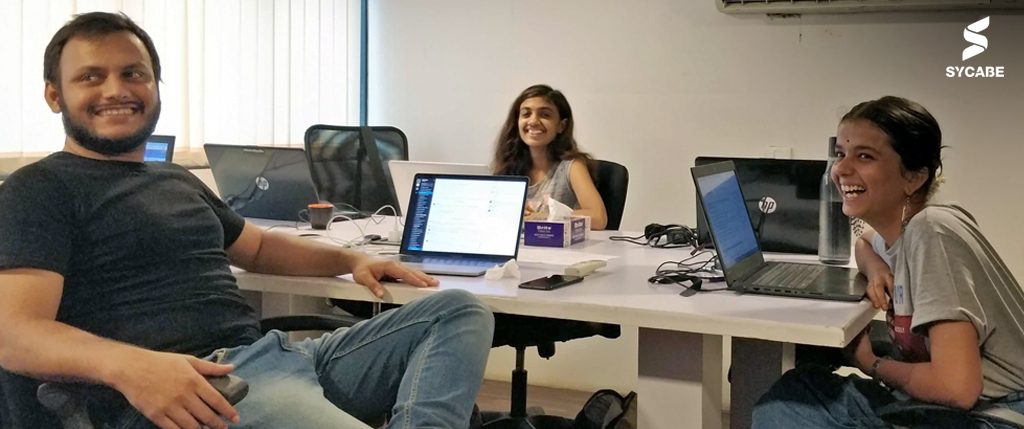 We scurried through profiles and listed down people we found were a good fit as speakers for the area of interest that Sycabe catered to. The same was done for venues – obviously not through LinkedIn! 

Co-working spaces became an obvious choice owing to the current gig-economy model. A co-working space includes Entrepreneurs, Solopreneurs, and next generation of Digital Marketers like Marketing Managers and Students – who at some stage in their future might look for one to work from. 

So Sycabe is not just your gateway to knowledge but also kickstarts your entrepreneurial journey by making you part of the CoWorking subculture.

The second reason to pick Co-working spaces as our venue was that they are pretty, have some of our audience and are well-equipped to conduct a workshop.

The next step was: 
Calling them all up – Speakers and Venues,
Pitch our game plan and
Get them onboard.
Now that we had our venue, speakers and topics for tech and digital workshops sorted, the time was now to market them and get the audience. And this is where all the on-ground action for Sycabe began. Meetup became our go-to place to build an online community by promoting our upcoming workshops. Social Media and the Groups became the second. Some even landed into Sycabe through event listing sites like Eventbrite, TownScript and EventHigh. 

Sycabe's first workshop with IIDE's HOD, Aaryendr Rajpurohit addressed the most basic yet common problem solopreneurs, homepreneurs, entrepreneurs and marketing enthusiasts face – how to boost posts and run ads on social media to the right audience.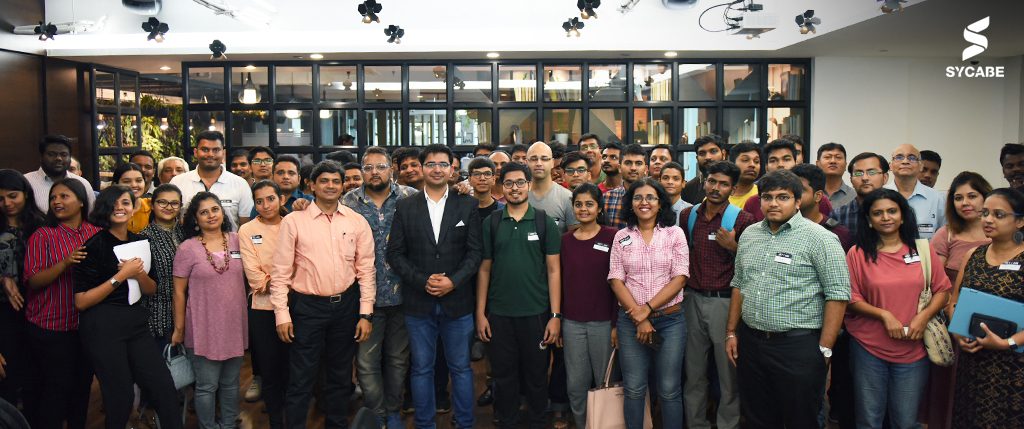 A 2-hour workshop with 1 hour of networking, some yum refreshments, lots of learning and a beautiful community that had just started building is all that followed.

After Aaryendr, we had 

Ami Savla Hemani – founder of social media training hub, for 'How to sell Via social media' at Venture Catalyst. 
Social Media is a powerful tool to generate business. Ami's hands-on interactive workshop guided people step-by-step to create social media profiles that adequately reflect their vision, values, story, interests, along with their products. The audience came out learning how to manage their social media independently and attract quality leads.

Swapnil Pase – Director at Freelancers Academy & Anuvaa, for 'Actionable SEO Strategies' at Workbay
An interactive workshop where our attendees got tips and tricks from Swapnil on some easy to execute SEO strategies that will help their business become more discoverable online.
Tejas Jhaveri – Founder at Flintstop.com, for 'How to Set up and run an Ecommerce Store' at Fundtonic
This workshop by Tejas was for professionals and beginners alike who wanted to understand the details of running a successful ecommerce business. It focused on the Set up-to-Sustain ecommerce journey, where our audience learnt about the right products to sell and how to overcome the hurdles of selling online.

Mithun Pangal – CTO at Custom Technologies, for 'Tech-when do we use it' at Redbricks
Today businesses use technology day-in and day-out. However, it's important to understand the utility of Tech for your business before going ahead and implementing it. You shouldn't be deciding a tech solution looking at a competitor? Rather, evaluate, understand and make a decision for Growth!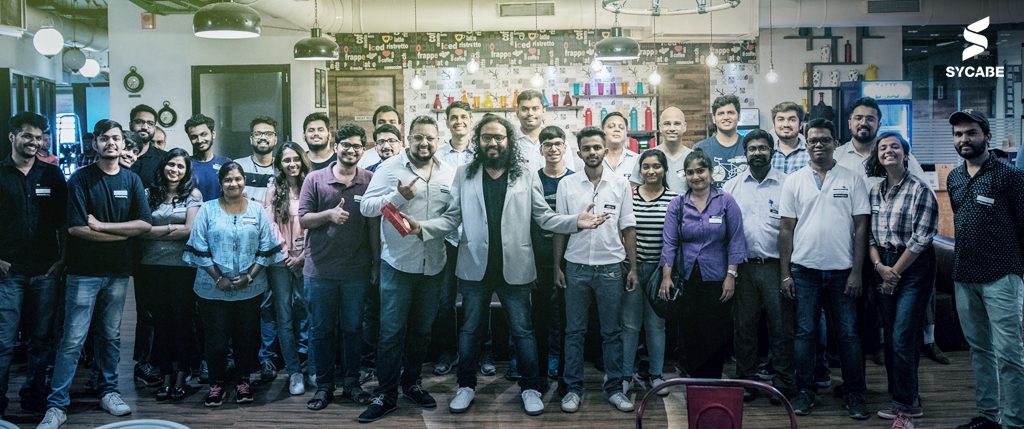 In this 60 mins workshop, Mithun informed our audience not just about the use of technology but also situations where one doesn't need to use it. The purpose of the session was to demystify the word "Tech" and stop using it as jargon.

Ashwini Desai – Digital Marketing Consultant & Trainer, for 'Measure and Grow with Google Analytics' at The Playce
Google Analytics is an incredibly robust, free tool that measures your website traffic and gives you related insights. Our speaker, Ashwini, taught our audience how to get the greatest benefit out of one of the most powerful analytics tools available today and draw insights to improve their business. She started off with basic terminology and key metrics that evaluate the performance, and then dived deeper into more complex analytics techniques, setting alerts and how to use these insights to make a website better.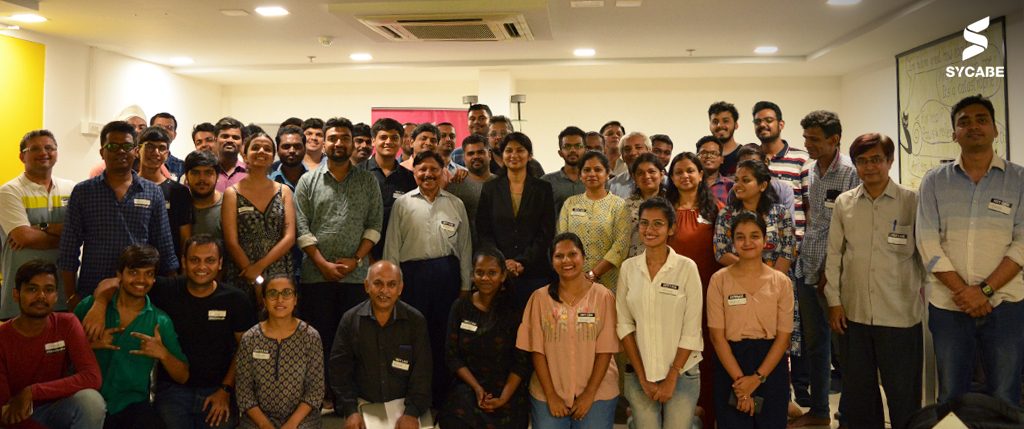 People walked away with a fundamental understanding of Google Analytics' and how to operate it to improve their business.

Vainetya Gavai – Co-Founder at Siriti, for 'Conscious Capitalism' at Native Spaces
With the Social-Economic-Environmental Crisis looming over the 21st Century, it is essential to switch to practices that lend to the holistic growth of our society and environment. Conscious Capitalism is one of them. The intention here is to leave a positive economic, personal, cultural, ecological, and social impact on all the stakeholders, including the environment through your products and services.

In this workshop, our speaker Vainateya Gavai helped our audience get in-depth knowledge about the practice of conscious capitalism through his case studies. Together with him, the audience explored the ways to transform your conventional profit-driven business into a conscious business.

Girish Nair – Founder at Curiosity Gym, for 'Design Thinking for StartUps' at Curiosity Gym
Design Thinking has become an innovation enthusiast's jargon. This methodology is being used by corporates and startups alike to structure & de-risk their innovative product/services designed to solve a problem.

This session by Mr Girish Nair was a hands-on workshop for our audience to learn the design thinking process and its use to rapidly prototype their next innovative business idea. He focused on solving a customer's problem, building a business idea and turning it into a product for customers.

After the workshop, our attendees walked away with a clear methodology for how to innovate and apply design thinking to their own business/profession/startup.

Rishi Gangoly – Founder at WebDudes, for 'Email Marketing' at Plug and Work
Emails are the highest ROI channel! And yet, we still don't utilise to its full potential by just focusing on growing our subscriber list and not nurturing the ones we already have.

This email marketing workshop with Rishi Gangoly focused on teaching our audience to create an effective email marketing strategy that grows their business. From contact management and segmentation to email deliverability and analyzing your email sends, they learnt how to build an email marketing strategy that is human and helpful and builds trust with their contacts.
Gopal Iyer – Real Estate and Digital Marketer, for 'Lead Generation' at Of10
The way your potential customer reacts to your brand at different 'Customer moments' defines how they feel about your business. These are the moments that really matter in creating a positive customer experience. So how do we start finding these moments? By mapping out our user's journey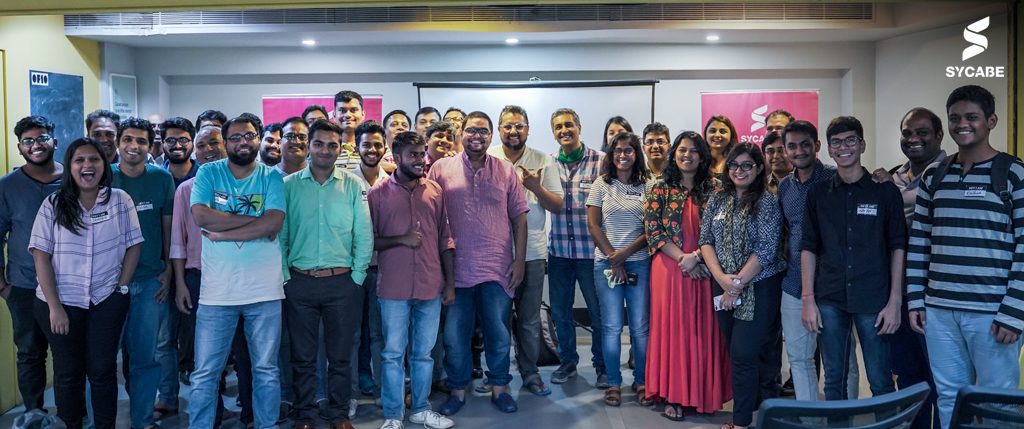 In his workshop, Gopal Iyer not only taught our audience how to map out their user's journey but also how to execute strategies around it that help in lead generation across all platforms. 

Jaljeet Ajani – Co-Founder at Synclarity, for 'The Construct of Content' at Redbricks
Content is the backbone of all that you publish-outbound or inbound. And yet a lot of organisations fail to create a good content strategy or are not able to create good content.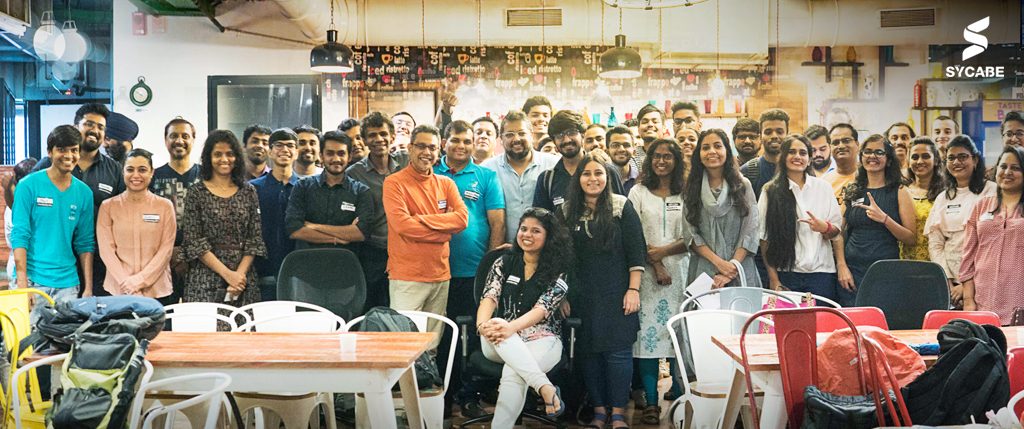 Jaljeet Ajani and his workshop 'The Construct of Content' focused on introducing our audience to the various forms of content that they can push out on multiple platforms.

During the workshop, our audience gained clarity, focus, and enthusiasm to create content—and most of all, left with achievable, actionable and specific next steps.
Dharmendra Rai – Mumbai's first mind map trainer, for 'Invisible Selling' at iKeva.
How do you Sell?
By Talking About your Product?
By Telling people what benefits your services hold?
By describing how much you care about your customers?
But don't people hear it everywhere!
How do you convince your prospects to buy from you when they are already bored and don't want things shoved in their faces? Take a space in their subconscious.
Dharmendra Rai is Mumbai's First Mind Map Trainer and we had the pleasure to have him onboard for Sycabe. His workshop taught our audience the Subconscious Selling Strategies to scale up their business, unlike the conventional ways their competitors are already using.

With all the workshops successfully conducted, obviously with a few roadblocks here and there, in the span of 6 months – Sycabe transformed from one simple idea to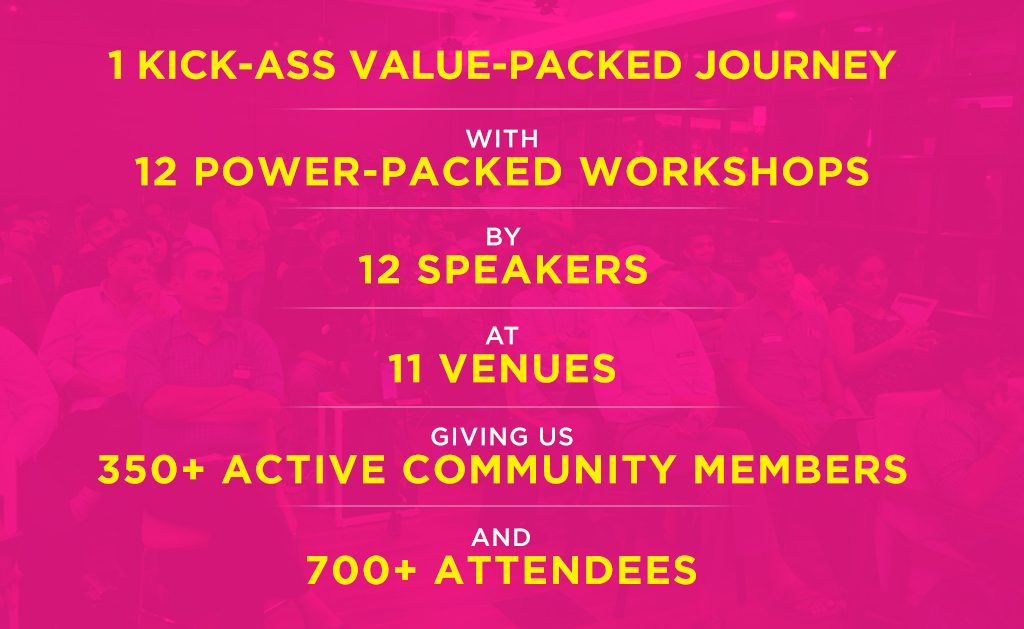 We are nothing less but super proud of what our team has achieved so far – bringing us a few steps closer to make Sycabe the go-to place for anyone who wants to learn right from the basics to a professional who wants to dive deep into the subject, network and grow.

So, this was Phase I. Now what?

PHASE II – even bigger and better! 
Focused on solving the pain points of early-age and growing startups, we decided to dedicate our next step towards the ultimate 'SYCABE GOAL' – No! not the one where we all declare french fries our national food, but the other one where Sycabe becomes a go-to place for anyone who wants to learn. 

We are recording podcasts, designing masterclasses, webinars and more workshops on topics like Growth Hacking, Marketing in the Digital Age, Branding, Community Building and eCom Business to provide value to our audience. Because that's what we are here for!

Then let's get started, shall we?
Join us on Meetup! The details of Phase II come out soon.